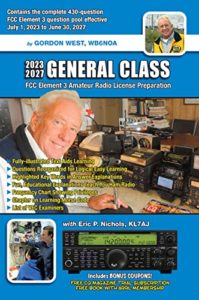 The recommended study manual is the Gordon West 2023-2027 General Class Book,  ISBN-13: 978-0945053071, available from a number of online and local booksellers or directly from W5YI (purchase online, but available for pickup locally).  We recommend you study at https://hamstudy.org.
A General Class License course will be offered in 2024 using the latest question bank and the Gordon West General Class Book.
Note: This is an upgrade class for those that already have the Technician class license. An entry level, Technician class, will be offered January of 2024.