Last Month we learned about the End Fed Half Wave antenna (EFHW).
This month we built it!!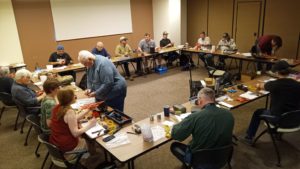 On Saturday, November 18th we built our EFHW portable antennas for 40m, 20m, 15m and 10m.
Seventeen club members of various skill levels participated and all successfully built their own portable multi-band antenna.
In December we plan to take the antennas into the field and tune them for optimal performance.
The project was great fun and we anticipate another build project or two in 2024. If you have ideas for a fun build project talk to Steve W5HK, Greg KA9SUU or Paul W5PFH.