So . . . we're hanging out at Belton, and a Life Member drops by to say hello. Charles Penry WA5VHU and his wife Cindy KD5CCB were visiting the HamExpo and visited with us for a while.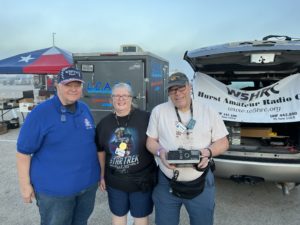 Charles is holding a radio we brought for sale that was once owned by Betty Roden and donated to the club some years ago!
We setup next to Jason KC5HWB (Ham Radio 2.0). The weather was perfect! Several club members stopped by to say hello.